Three days into the final week & I'm running a bit behind. Sunday's mini took a little more prep than I'd considered, & I bit off a good bit more than I'd intended for Monday (Suffice to say, it's large & orange. Not a good combination)
Either way, Here's Sunday. Another Warmachine model: the Khador Man-O-War. I bought this one 5 years ago during a going out of business sale for a game store about 75 miles from where I live while visiting my fiance at her college. I'd always really liked the look for this unit. They're beefy and impressive, but still seem realistic to steampunk warfare. So when I saw there were a few blisters for 50% off I went ahead & grabbed one.
I'd originally wanted to paint them in a black & gold scheme, similar to a
Necron test-mini
I painted a while back, but I decided to stick to the classic red, since that's how I've painted all the other Khador I've done in the past.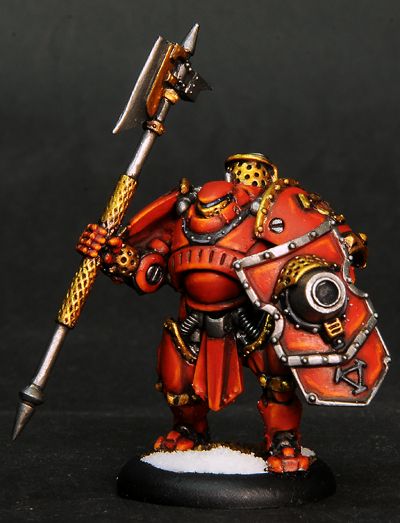 I'm happy with him, although once I put him next to my other Khador types it occurred to me that the others don't have much gold. I want Khador to have a more industrial look, not fancy, so most of them are silvery & brass rather than gold. Oh well. Maybe I'll sell him or give him away. We'll have to see.
Hope to catch up soon.
~Muninn